Situation:
A notable air recovery specialist in Florida excelled at safely recovering and transporting crashed aircraft of any size, from small private aircraft to large jets. The latest job required moving a B-17 Flying Fortress that was in pieces from Florida to Wisconsin.
A part of history, the Boeing B-17 Flying Fortress was a high-flying four-engine heavy bomber developed in the 1930s for the United States Army Air Corps. It was used primarily in the European Theater of Operations, dropping more bombs than any other aircraft during World War II.
The plane's parts had to be crated for shipping to the Midwest. However, to move the plane, the company needed a caster that would not only support the weight of the crated B-17 but also provide a stable load to protect the cargo. And they needed the casters in two weeks.
Solution:
After discussing specifics like the total load, how far the casters would be traveling, and what the casters needed to do, we devised a solution.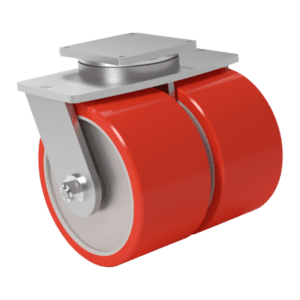 We ended up using 2-81 series 10×3 dual wheel casters for the body of the plane and single wheel 81 series 10×4 HD casters for the other dollies that supported the wings and other components.
The casters were attached to the dollies and then fitted to the plane. The next step was shipping this monster from Punta Gorda to Wisconsin. Once the crate arrived in Wisconsin, the task began to move this massive load into place to be refurbished and reassembled.
Results:
Mike (the customer) was extremely satisfied. The casters performed to his high expectations, and he was delighted with the lead time, in which we could provide a custom solution in under two weeks.