Same great ergonomic benefits designed for maximum weight capacity.
Like all our ergonomic TWERGO® wheels, TWERGO XTREME casters move heavier loads easier by minimizing friction and eliminating scrubbing and sliding when the wheel is turning. It's the same great features of our original TWERGO Wheels but designed in a dumbbell configuration with the wheels on the outside of the rig.
This design helps disperse weight and puts more rubber on the road, giving you maximum load capacity and maximum economic benefits!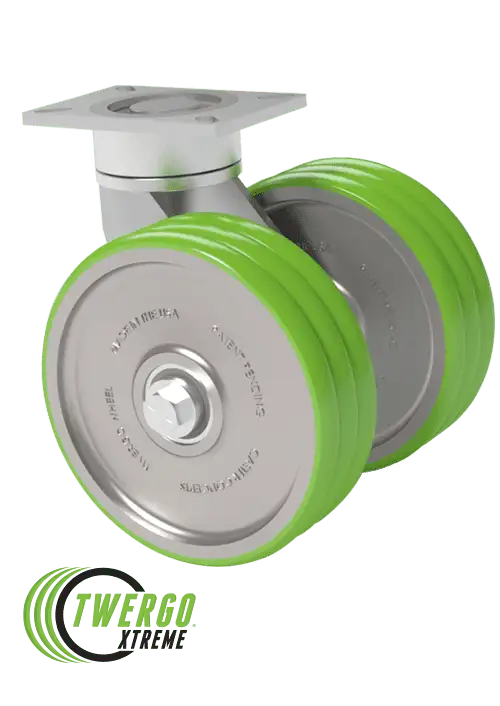 Overview
TWERGO® Twin- and Triple-wheel designs have independently spinning wheels that can rotate in either direction and at any rate, minimizing friction when turning and maneuvering. They are designed for a wide variety of industrial applications, ensuring casters that utilize TWERGO® wheels provide easier movement of loaded carts or vehicles. Overall, this configuration offers many benefits:
It significantly reduces push/pull force while giving operators the ability to move even heavier loads.
All wheels rotate independently of each other and are designed to minimize rolling resistance.
The casters also have a very long tread life and are maintenance-free to extend use.
Application
TWERGO® XTREME Ergonomic wheels are great for AGV's, Tuggers, and material handling carts where high weight capacities are needed. They are reliable at higher speeds and are available in two-and three-wheel configurations with a maximum load capacity of 3,500 per wheel.
Options
Caster Concepts has a wide variety of caster options. Many of these not only improve function – but also provide safety and add longevity to the product. When considering safety options, the most common consideration would be caster locks, caster brakes, toe guards, and reinforced legs. Options that extend the life of a caster are primarily options that seal the bearing of the caster to prevent contamination of the precision parts.

Other options include threaded zerks for when an application is difficult and high level of maintenance is required and rack brush wipers that keep debris from stopping movement or damaging a wheel. These options can be added at the time of manufacturing or after the caster is fully assembled.
FAQs