Caster Options
Locks, Brakes, Track Wipers & More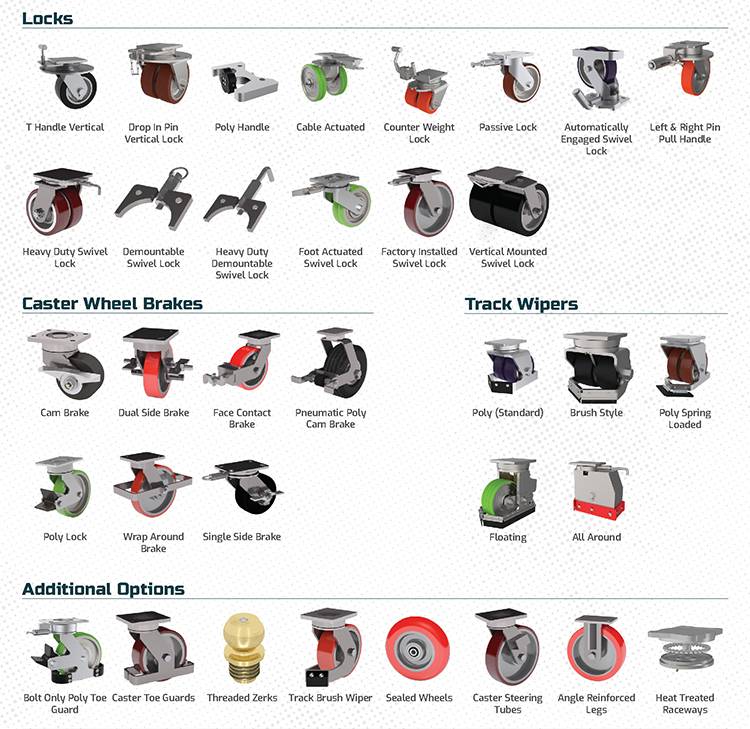 Caster Concepts stocks a wide range of standard and custom accessories and replacement parts designed to offer benefits such as preventing operator strain and injury, making a cart easier to move, or increasing the life of your caster.
You'll find a wide variety of caster swivel locks that give operators more flexibility when transporting and maneuvering material handling carts, such as demountable, foot-actuated, or automatically engaged swivel locks.
For heavy duty applications, our caster wheel brakes include single and dual side brakes, face contact brakes, wraparound, and poly lock and poly cam brakes for increased safety and stopping power.
Another popular option is our toe guards, a simple and very effective option to help protect an operator's foot and prevent serious injuries. Other options include track wipers that help clear debris that would stop the wheel's movement on a track and steering tubes that reduce exertion and make it less physically taxing on an operator in manual cart operations.
Besides the parts listed below, we can assist you with custom parts and custom-engineered solutions for your heavy duty casters to meet any need that prolongs and safeguards the life of your heavy duty industrial caster or wheel investment.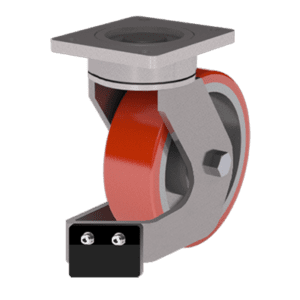 Track Brush Wiper
Add a track wiper brush for extra protection against debris and build-up. Track wiper brushes are utilized when any type of wheel is running on a track where debris can stop the movement, damage the wheel or take it off the track.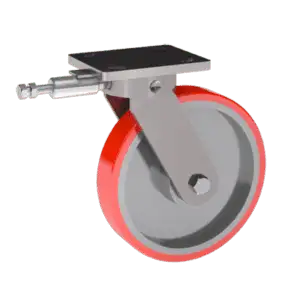 Caster Swivel Locks
Locking a swivel caster adds the benefits of safety, flexibility, and ease of movement. By locking the caster wheel into a fixed (rigid) position, operators can transport and steer a loaded material cart over long distances.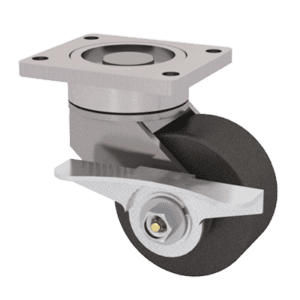 Caster Wheel Brakes
Caster brakes are an important component of heavy-duty caster wheels and have many benefits. As a backup to operator strength and to reduce strain, caster brakes can be used to slow and stop a cart.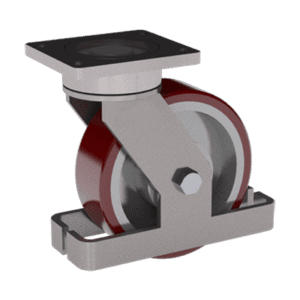 Caster Toe Guards
A caster toe guard is a bracket that provides a barrier between the caster wheel and a cart operator's foot. Often used as a safety device, the toe guard is mounted approximately one-half of an inch off the floor. This height can be modified based on the terrain the caster must travel over. It can be used in both manual and power applications.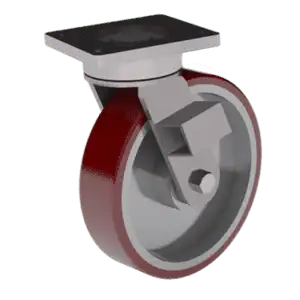 Caster Steering Tubes
Slots for steering handles allow precision motion control for casters with steering tubes. Steering tubes are used on industrial casters that carry heavy loads and need to be manipulated in very tight places.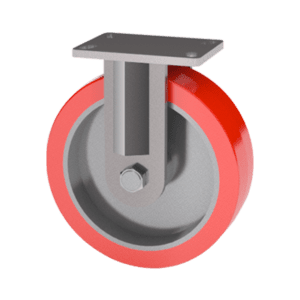 Angle Reinforced Legs
Heavy-duty angle reinforced legs provide maximum strength and rigidity. Reinforced Legs either angle iron on the outside of the leg or gussets on the inside serve to strengthen the caster when exposed to side loading.