Additional Caster Options
Caster Concepts stocks a wide range of standard and custom replacement parts for many different requirements like shadow caster accessories, swivel caster parts, toe guards, and more. It is not unusual the life of a heavy-duty caster wheel can be prolonged by replacing a variety of components that can be easily replaced as wear parts of a caster.
Replaceable parts for heavy-duty casters fall into three main categories.
Bearings – Any bearing with regular extended use. This could be tapered roller bearing, straight roller bearing or ball bearing. Generally the tapered and straight roller bearing require regular maintenance which includes regular greasing and with tapered rolling bearing.
Axles – At times, in an abusive application, axles can become damaged. An axle may be bent or threads can be damaged during operation. It is a good practice when replacing axles to replace bearings to prolong the life of each.
Retreading/Remolding of Polyurethane Tires – A unique offering by Caster Concepts is the ability to remove a poly tire from the wheel core — pouring a new tire on the core and replacing all the bearings. In the end functionally a new wheel. This process is cost-effective when there has been added operation to the wheel cores (threading, special machining, etc).
Besides the parts listed below, we can assist you with custom parts and custom engineered solutions for your heavy-duty casters to meet any need that prolongs the life of your heavy-duty industrial caster or wheel investment.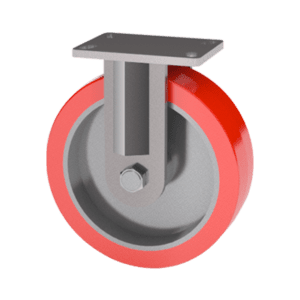 Angle Reinforced Legs
Heavy-duty angle reinforced legs provide maximum strength and rigidity. Reinforced Legs either angle iron on the outside of the leg or gussets on the inside serve to strengthen the caster when exposed to side loading.
Casters With Steering Tubes
Slots for steering handles allow precision motion control for casters with steering tubes. Steering tubes are used on industrial casters that carry heavy loads and need to be manipulated in very tight places.
Heat Treated Raceways
Heat-treated raceways in swivel casters are designed to prevent brinelling of the raceways.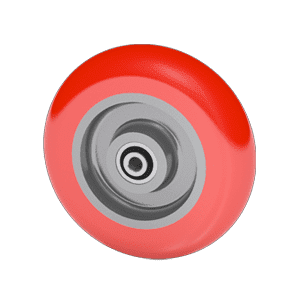 Sealed Wheels
Rubber inserts provide maximum protection against debris within sealed wheels.
Threaded Zerks
Threaded Zerks Grease fittings for every size caster.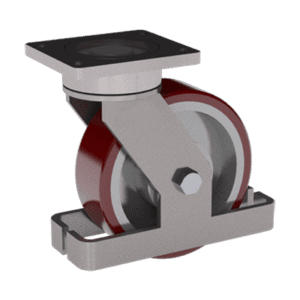 Toe Guard
The toe guard is mounted approximately one-half of an inch off the floor to help protect workers' feet. It can be used in both manual and power applications.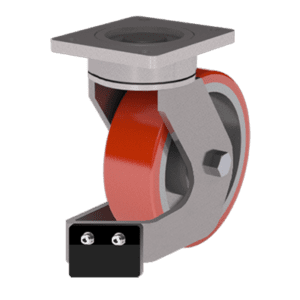 Track Brush Wiper
Add a track wiper brush for extra protection against debris and build-up. Track wiper brushes are utilized when any type of wheel is running on a track where debris can stop the movement, damage the wheel or take it off the track.