Caster Swivel Locks
Caster Swivel Locks: Secure Your Load and Add the Benefits of Safety, and Ease of Movement
Caster swivel locks give operators much more flexibility when moving and positioning material handling carts. By locking the caster wheel into a fixed (rigid) position, operators can transport and steer a loaded material cart over long distances. Unlocking the casters once at the destination enables the cart to be easily moved and positioned in any direction. In short, the locking caster provides flexibility in tight areas and easier movement when traveling a longer distance.
Heavy Duty Casters with Locks
Heavy-duty locking casters can be manufactured with built-in locking mechanisms. You can also retrofit a brake for a previously purchased caster.
We strongly suggest purchasing a caster with the locks built into the original design. These types of locking casters are much more desirable and will have a greater usable life cycle than locks applied after the fact.
Heavy-Duty Caster Swivel Locks as a Safety Option
Locks are also often installed for safety reasons. Moving a cart with two locked casters (rigid) and two swivels casters is much easier to handle than a cart that has four swivels. It takes a lot of force to keep a loaded cart with 4 swivel casters on track and is more prone to operator injury.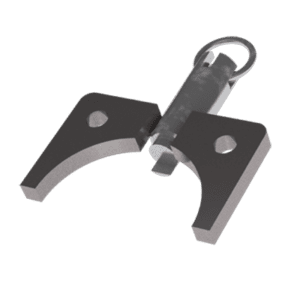 Demountable Swivel Lock
The demountable swivel lock is a field-installed option available up to the 71 Series.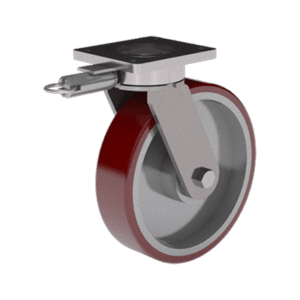 Factory Installed Swivel Lock
The swivel lock provides notches every ninety degrees for use in straight line movement of the cart. Also available in 1, 3 or 8 position.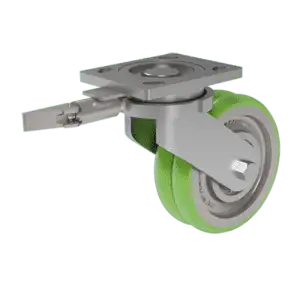 Foot Actuated Swivel Lock
The locking mechanism on the foot-operated swivel lock is the same as the standard swivel lock. To engage or disengage the lock, there is a pedal that can be operated by foot to improve ergonomics and speed of locking/unlocking a swivel caster.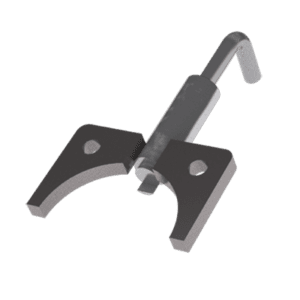 Heavy Duty Demountable Swivel Lock
The heavy-duty demountable swivel lock is a field-installed option available for the 80s and 90s series of casters.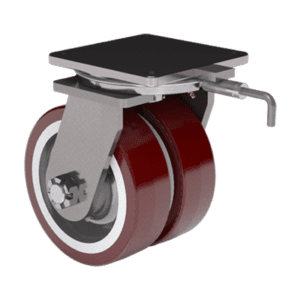 Heavy Duty Swivel Lock
The heavy-duty swivel lock provides a longer, more accessible handle made from machined steel.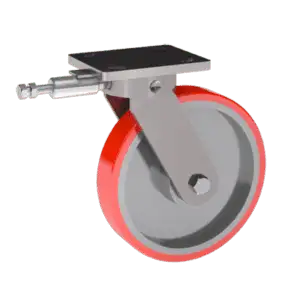 Passive Swivel Lock
The passive swivel lock is used when full mobility of a unit is needed. The swivel lock plunger engages a detent and locks the caster for straight-line movement. When side thrust is applied, the swivel unlocks providing maximum maneuverability of the unit. This swivel lock is NOT RECOMMENDED for towed applications.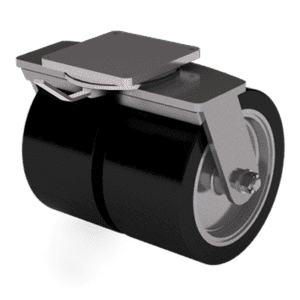 Vertical Mounted Swivel Lock
The vertical mounted swivel lock is mounted out of the way, under the yoke base of the caster. Used mostly in heavy-duty applications, this swivel lock provides a more secure locking feature.