If you're embarking on the journey of selecting casters for your industrial applications, you're likely to have a series of questions. Doug Backinger, the Vice President of Sales at Caster Concepts, answers the top four caster questions asked by new customers to provide valuable insights into the world of industrial casters. Let's dive in:
1. What Determines a Caster's Cost?
Caster cost can vary widely, depending on several factors. These factors include your application, load capacity requirements, and specific needs like swivel locks, brakes, toe guards, or different types of urethanes. Customization options, such as custom wheel cores or swivel sections, can also impact the cost. Caster Concepts offers a range of options to accommodate various budgets, and you can find cost ranges on their website.
2. How to Choose the Right Caster?
Selecting the right caster begins with understanding your load capacity needs. Divide your load by three to estimate the load each caster should handle. While catalog ratings are given at walking speeds and intermittent use, high-speed or 24/7 applications require consultation with the manufacturer. Consider factors like durability, rollability, and environment to choose the caster design that suits your application best.
3. Can I Customise My Caster?
Yes, customization is possible. Whether you need minor modifications like a new top plate or longer legs or if you require a highly customized caster for a specific application, Caster Concepts can help. Our ability to customize products allows us to meet unique requirements effectively.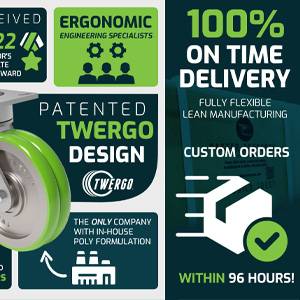 4. What's the Lead Time for Caster Orders?
Of all the common questions we get asked from new customers, this is a big one. Caster Concepts aims to deliver orders within an average lead time of around two weeks or less. Lead times may vary based on complexity and quantity, but their vertically integrated manufacturing process allows them to handle a high variation in product types and still meet delivery deadlines.
RELATED: LEAD TIMES FOR STANDARD AND CUSTOM CASTERS
By addressing the top caster questions new customers ask, Doug Bakinger provides a solid foundation for anyone new to the world of industrial casters. If you have more inquiries or need further assistance, you can explore Caster Concepts' Learning Center or contact their team for personalized guidance.
Thank you for starting your journey to spec out industrial casters with Caster Concepts. Their expertise and versatile solutions make finding the right caster for your needs a straightforward process.
We engineer material handling systems to maximize your productivity and reduce costs. For more information:

Give us a call – 888-772-6790