Why you should buy your casters from a casters company.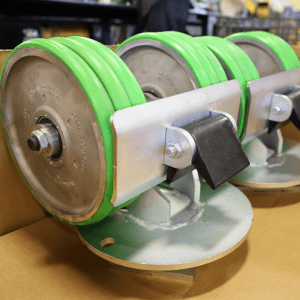 Just as your first choice for pizza wouldn't be a sub shop, your first choice of casters should be from a Caster Manufacturer instead of your local tractor supply or home improvement store.
Your standard big box retail stores like Home Depot or Lowes will stock many different caster options, but it is not the "bread and butter" of their business. So, there is a lack of emotional attachment to a customer's success with those products. In comparison, a Caster manufacturer who doesn't provide other materials, tools, or services is much more focused on product success and customer satisfaction. We always ask our customers a detailed set of questions to determine the correct caster for the intended use:
How will the caster be used in the application?
Approximate total weight, including both the cart and the payload
Manual or powered application and what are the operating speeds
Whether it is an indoor or outdoor application and exposure to moisture, heat, or cold
Will the unit be shock-loaded?
What is the floor material or running surface made of, and what condition is it in?
For customers specifying their own casters, it is an excellent idea to incorporate the answers to these questions into your decision-making.
In-House Capabilities Offer High Degree of Flexibility
Another thing to consider is whether or not the Casters are manufactured overseas or in the US. Caster Concepts is fully vertically integrated, owning every step in the manufacturing process, including CNC and Welding. Caster Concepts is also the only caster manufacturer that has in-house polyurethane lab/batching for wheels.
We process all polyurethane tread material using an open-casting polyurethane molding process. This allows us to maximize quality and flexibility, ensuring you get the best tread formulation. It also enables us to create custom formulations for specific uses. Our in-house processes also allow us to provide some of the shortest lead times in the industry.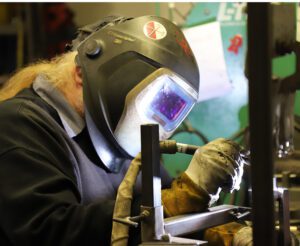 Being so vertically integrated allows us a great degree of manufacturing flexibility. This means simple changes like mounting pattern, height, etc., don't add to lead time or impact cost much. As a made-to-order business, we do not have finished products on a shelf. We laser cut, form, weld, and assemble casters as ordered,  so we can handle simple custom changes with minimal impact to cost or lead time, which is two weeks on average.
This level of customer customization is second to none. Getting a product that perfectly fits your application and getting it when you need it is OUR bread and butter.
Check out more content if you're interested!