Caster Concept's 8×2 Twergo wheel reduces push force below 35 lbs.
Problem:
A major electric vehicle manufacturer needed to get the maximum push force below 35 pounds on their manual carts. These carts were carrying loads of 1500 pounds. 
It was essential for the company to meet the 35-pound push force standard. At that weight, 99% of the workforce can move a cart multiple times per day, per shift (See Chart Below). And that meant maximum efficiency. Another important reason to lower push force is that one overexertion injury can cost a company $20K, which adds up quickly when injuries begin to mount. 
Solution: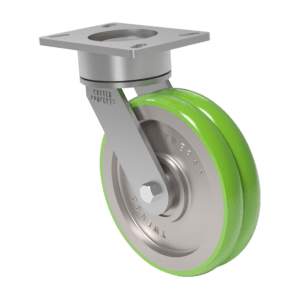 The company performed trials for many different caster manufacturers in the marketplace. Caster Concept's Twergo® wheel was the only one that passed their standards. TWERGO is Caster Concepts' patented, ergonomic caster wheel featuring Twin- and Triple-wheel designs with independently spinning wheels.  These wheels can rotate in either direction and at any rate, minimizing friction when turning and maneuvering. The benefits include reduced initial and continuous push force, as well as the force exerted to turn.
Workplace Injuries and Push Force
Most workplace safety concerns deal with the amount of push force need to move a cart. The force required to push or pull wheeled equipment is always greatest at the start. Once the cart is rolling, it typically requires less effort to push or pull. Considering these two factors, when the starting force and rolling force exceed those that the operator can safely move, injuries occur.
| | | |
| --- | --- | --- |
| Push Force Industry Risk | | |
| 70 LBS. PUSH FORCE | SAFE FOR 38% OF THE POPULATION | 62 OUT OF 100 AT RISK FOR INJURY  |
| 50 LBS. PUSH FORCE |  SAFE FOR 82% OF THE POPULATION | 18 OUT OF 100 AT RISK FOR INJURY  |
| 40 LBS. PUSH FORCE   | SAFE FOR 90% OF THE POPULATION | 8 OUT OF 100 AT RISK FOR INJURY  |
TWERGO Ergonomic wheels are great for AGV's and Tuggers where high weight capacities are needed. They are reliable at higher speeds and are available in two-and three-wheel configurations.