Heavy equipment carts driving costs up to $80,000 per injury.
Situation: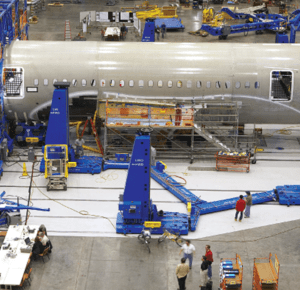 A top aircraft engine supplier recently called Caster Concepts regarding the ergonomic issues they were having. Their material handling carts were too heavy to push safely, which was causing lost productivity and strain injuries.
The company had several pieces of equipment that needed to move throughout the facility and needed a 20% reduction in push-pull forces to do this safely. Cart operators were lodging multiple complaints and even had a strain injury because the push-pull forces were so high.
This problem could ultimately cost the company up to 80k+ per injury. Every day they used the original casters, it was adding excessive time to move these cold traps while moving another day closer to an expensive injury.
Solution:
This was a unique situation because of several restrictions to consider when choosing the correct caster design for the application.
To meet our customer's needs, we first had to figure out what caster would decrease the push/pull force enough to meet their goals. The push/pull force had to be cut by 20% minimum to justify the purchase. In addition, the overall height had to stay within 1/4″ of the original casters.
The next step was understanding what wheel materials would pass MOC approval. Finally, we needed to make sure that the swivel restrictions would be possible and still have the caster operate at peak performance.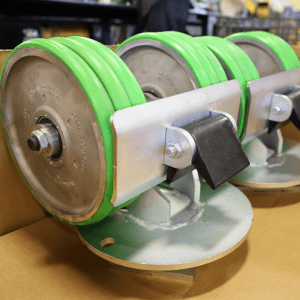 Ultimately, we customized our TWERGO® XTREME product to meet their needs. TWERGO XTREME casters move heavier loads easier by minimizing friction and eliminating scrubbing and sliding when the wheel is turning. It's the same great features as our original TWERGO Wheels but designed in a barbell configuration to disperse weight.
Result:
The new TWERGO XTREME casters helped the company achieve a 32% reduction in push/pull forces, a good deal better than the 20% reduction that was required. The new casters also decreased the time it took to move the cold presses by 5 minutes per trip, which ended up saving 100 manhours annually. Finally, eliminating the risk of injury saved the company countless amounts of money on potential lost revenue due to injuries and lost labor hours.