Eliminating Offshoring Allows Installation of Conveyor Drives Rollers Without Affecting Production Schedules.
Situation:
An automobile assembly plant had conveyor power drive rollers that needed replacing.  However, getting these rollers in a timely manner was a different story. The manufacturing of the parts in Italy resulted in lengthy lead times and slow, costly ocean freight.
These drive rollers conveyed the automobiles through the weld and final assembly processes, so a solution needed to be found.  Otherwise, production would not begin on time after a planned shutdown.
Solution: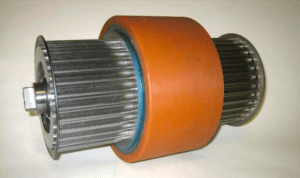 The client contacted Caster Concepts, who had worked with them on another conveyor system project at another automobile assembly plant.
The Caster Concepts engineering and manufacturing teams pulled together to design and manufacture the rollers within 3 weeks. This timely delivery allowed the installation of the drive rollers during an annual plant shutdown, lessening the impact of the changeover