A manufacturer of Automated Guided Vehicles (AGV's) needed casters that could support 65,000 lb. jet engines. Each engine that is carried on the AGV's is valued at several million dollars, making a secure and safe cargo the utmost priority. The design of the vehicle called for four casters with a suggested safety variance of at least 25%.  This meant each caster needed to support at least 20,000lbs.
Challenge: Deliver a highly dependable, shock-absorbing caster that could handle a 20,000 lb. maximum weight capacity.
And to follow even tighter safety protocols, design a caster that could handle even a higher weight capacity. With increased loads diminishing a shock-absorbing caster's capabilities, the higher the load capacity the less chance of a potential problem with such high-value cargo.
Solution: Dual Wheel Shock Absorbing Casters with fully independent suspension.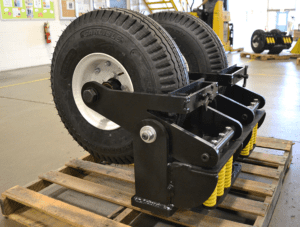 The design of these heavy duty casters keeps the vehicle's wheels on the ground and the cart level even if the ground is uneven. They also reduce the impact of shock while alleviating excessive stress being put on just one wheel.
Benefits:
A 25,000lb capacity per caster exceeded the 25% suggested safety variance
Independent suspension limits the shock from most impact incidents and minimizes excessive stress on one wheel
Shock-absorbing qualities also protect cargo, reducing the risk of failure and maximizing the ability of a safe and stable load.