Let's Roll: Extreme Heavy Duty Casters Efficiently Move Steel Rolls Through Steel Mill.
Situation:
A steel mill needed to transport extremely large rolls of steel throughout their facility, including outdoors to other buildings. In the past, they had used semi-trucks with trailers, which slowed production because maneuvering and movement were cumbersome and slow.
Engineers at the steel mill discovered Caster Concepts and challenged the engineering team at Caster Concepts to develop a better way to transport the steel rolls.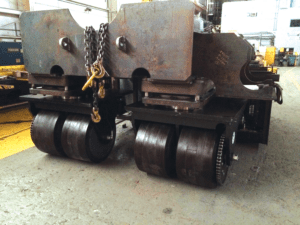 The steel mill had created a custom transport vehicle that could carry multiple rolls at once. Since a loaded vehicle could weigh as much as 200,000 lbs, the challenge for Caster Concepts was to develop
motor-powered wheels that can carry the heavy load.
The Caster Concepts engineering team worked with the transport vehicle designers and developed a custom caster design that could carry the 200,000 lbs load that also incorporated a sprocket on the axle to drive movement.
Solution:
The final product was a dual wheel, drive axle caster with a sprocket for a chain. The wheels were 28-inches in diameter and constructed of 3-inch polyurethane.  A 70D durometer hardness ensured the wheel could withstand the unique environmental challenges of the steel mill.
The caster was implemented successfully and led to improved productivity and eliminated the need for cumbersome semi-trucks to move the steel rolls.