I recently met up with Shane Grant, President of Machining Momentum. He shared some of his own manufacturing experience, the importance of having casters optimized for your application, and his thoughts on the future of Aerospace and Medical manufacturing. 
Q: As President of Machining Momentum LLC, can you share more information about the company and the products and services you provide?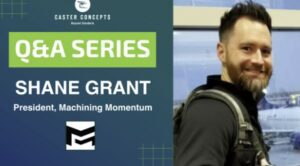 A: Machining Momentum was established in 2016 and was created to provide a high-end manufacturing service to a variety of industries. We focus mainly on smaller components for the Aerospace and Medical industry. We have the ability to machine simple to complex five-axis components. Our mission statement is "Manufacturing excellence through Innovation and Dedication," and I stand behind our objective to achieve that. 
Q: Why is it important to have an optimized caster? Can you share an example of a time when investing in optimized machinery and parts was beneficial to your company's efficiency, savings, or safety?  
A: We have several applications here where having the right caster supports our ability to move heavy projects around the shop to be more flexible when working in a small footprint. Space isn't cheap, so being able to move things quickly and efficiently is important, not to mention the safety we want to maintain within that space.
Q: What improvements have you seen in the manufacturing industry recently?  
A: Automation and 3D printing seem to be making a huge impact on how business is done. Smaller shops like mine are now able to afford automation options that will help them to compete with larger manufacturing suppliers. 
Q: What do you think the future of the manufacturing industry looks like?
A: I think the manufacturing industry is such an important part of this country that we will continue to see growth and development for many years to come. I have seen huge change in the 28 years that I have been in manufacturing, and I anticipate more exciting and creative ways to process products and services as technology continues to develop.
For more information on Machining Momentum, you can contact them here.

To speak with a Caster Concepts Representative, call 888-384-9634 or contact us by email or chat.