Properly Specified Casters Improve Bus Manufacturing Productivity and Safety.
Diverse Solutions for the Bus Manufacturing Industry.
Optimizing manufacturing material handling ROI and advancing a safer workplace can be a balancing act. Understanding the trade-offs between caster lifespan and cart load capacity while minimizing overexertion and other injuries — including noise reduction — enables bus and motor coach manufacturing facilities to perform safely at the highest level.
At Caster Concepts, our solutions engineers are qualified to work with you to specify the correct caster or AGV for your facility's material handling challenges.
For example, larger and heavier component parts for buses – including the larger EV batteries they're equipped with – are easier to move when the material handling carts have the correct ergonomic caster.
An Easier Push For Moving Heavy Carts
Caster Concepts offers a variety of push force-reducing casters like Twergo designed to prevent operator strain when moving higher-capacity carts. And our Swivel-on-Swivel casters provide large bus manufacturers the flexibility and maneuverability to utilize various workstations to accommodate changing production requirements.
Whether you're moving chassis components or assembling interior fixtures, our engineers have seen similar situations and designed a solution tailored to exact specifications.
Does your facility struggle with material handling or worker safety issues?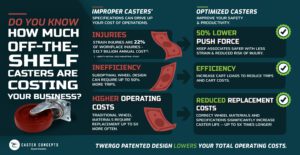 Caster Concepts – Leading in Innovation
Caster Concepts and our sister company, Conceptual Innovations, are trusted by leading automotive, agriculture equipment, off-road heavy duty equipment, and aerospace manufacturers.
We are unique in:
Leading the industry in innovations to reduce push forces, optimize wheel life, streamline automation, and integrate safety in heavy duty and ultra-heavy duty material handling.
Utilizing our material handling engineers, who can meet at your facility to analyze and provide a complete solution to your safety and productivity challenges.
Investing in being a fully integrated manufacturer, including processing and molding our urethane wheels to match your needs.
Sustaining American Manufacturing — Proudly Made in the USA at our Albion, Michigan facility.
Your Path to Improved Material Handling ROI Starts Here.
Have more questions regarding better ergonomics and efficiency at your facility? Fill out the form and call us at 888.785.5174 or  Chat Now. We are here to help!
Stay Informed and Get in Touch
Join us in keeping your finger on the pulse of innovation. Subscribe to our newsletter to stay informed on material handling best practices, including case studies.