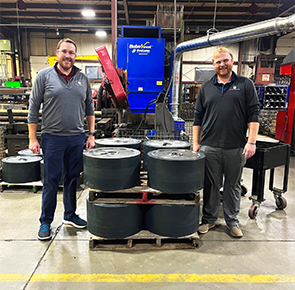 Situation:
An aerospace company needed casters to put on a ground support assembly used to transport an aerospace simulator. Moving the aerospace simulator is a complex and challenging task, as it was a large, heavy, and delicate piece of equipment. Not to mention this precious cargo took more than a year to complete. To transport this valuable cargo, precision and performance are the names of the game in terms of mobility and durability.
The transport was designed to have four casters per assembly that could handle 25,000 lbs. However, with the dynamic loads being placed on the casters, sometimes on only two of the wheels, a higher capacity caster and precision ball bearings were needed to meet safety factor requirements. Another factor that came into play was the surface that the casters would be moving over. The floor needed to be protected against damage, which requires a softer tire, but couldn't compromise on ease of movement with such delicate equipment.
Solution:
To ensure a substantial safety margin, Caster Concepts' 22″ x 12″ Dual Wheel 99 Series Swivel Casters were chosen. These heavy duty casters are rated for 35,000 lbs. per caster. Because of their dual raceway design, they are designed to handle heavier loads while still offering the ability to rotate smoothly. This precision was necessary to meet the aerospace company's unique requirements and was able to move the equipment without complications or concerns.
In relation to addressing surface conditions, the casters needed to protect the floor while still rolling easily and offering high tear and debris resistance. The wheels chosen for the casters are T/R 85A poly, one of many formulations offered by Caster Concepts at our in-house facility. This formulation was developed to offer a high degree of strength and softer to protect the floor while still providing superior rollability. The casters were also equipped with heavy duty swivel locks and poly lock wheel brakes to secure the valuable cargo when needed.
Another successful application to help our customers go above and beyond. Take a look at how we've assisted other customers on their custom projects in the past by checking out our case studies section.