Heavy Duty Industrial Casters:  90-99 Series Line of Casters, 8,000 lbs. to 50,000 lbs.
Our full line of 90 Series casters (90,91,95,97,99) offer reliable solutions to a variety of challenges for heavier load applications. These heavy duty plate casters handle a range of 8,000 to 50,000 lbs. per caster and feature a swivel section for easier maneuverability. Depending on your load capacity and needs, you're sure to find the right caster for your specific needs. Here's a quick overview:
90 Series Kingpin Caster. 8,000 lb. Capacity
The 90 Series features precision machined raceways hardened to eliminate surface brinelling when the caster is subjected to shock loads. The 90 Series Kingpin Caster is ideal for power-drawn equipment, aircraft ground support equipment, trash gondolas, material delivery trailers, and towed trailers.
This caster provides high load capacity at a good value
91 Series Kingpinless Caster.  20,000 lbs. Capacity
The 91 Series Caster has become a highly accepted industrial caster while evolving into a valuable investment for rugged applications by minimizing maintenance costs. It is valued for its simplicity and toughness for industrial applications where shock loading is prevalent. The ease of swiveling with the 91 Series Caster leads to very long lifecycles and many years of low-cost operation
This is a good industrial solution for power-drawn applications and automated guided vehicles, a variety of fiberglass mold, engine and paint line dollies, material carts, aircraft maintenance stands, production line delivery trailers, and much more.
The swivel section construction puts the ball bearing in a sheer load, providing greater strength and smooth operation when swiveling in a loaded state
For abusive applications, a kingpinless caster is recommended, because you are removing the failure point for the kingpin stretching. This is the reason why you'll find a lower series like the 91 Series (kingpinless) having more weight capacity than the standard 95 Series (kingpin).
95 Series Kingpin Caster. 17,000 capacity, and 25,000 lbs. capacity for HD
The 95 Series Caster can handle 17,000 lbs. and is ideal for applications where high load capacities are required and where the caster ensures constant use under load.
The integrally forged kingpin and slotted adjusting nut add strength and longevity to the life of the swivel section.
Rugged applications include die carts, towed trailers, automotive plant equipment, aircraft maintenance stands, production line delivery trailers, paving machinery, and boat dollies.
The 95 HD fits a gap between our 91 Series and our 99 Series with the ability to carry a load of 25,000 lb. With a high-capacity swivel section, the caster reduces force load, making it easier to move and maneuver
97 Series Kingpinless Casters.  10,000 lbs. capacity and 20,000 lbs. capacity for HD
The 97 Series features a maintenance-free swivel section with sealed precision ball bearings.  The high hardness and precision machining tolerances of the swivel section allow for an even distribution of load, which lowers swiveling forces and prolongs life in constant movement applications.
Our 97HD Caster was created when a customer needed a caster that could overcome the force needed to swivel without requiring a bigger drive system. The 97HD is also designed to save battery life over time because of the reduced effort needed to start and turn. Its maintenance-free design also helps the caster last longer and perform to spec.
Our 97 Series casters easily maneuver around tight corners, reduce the drain on motor-powered platforms, and carry between 10,000 and 20,000 pounds per caster, respectively. They're the newest muscle in motor-powered material handling
99 Series Kingpin Caster.   35,000 lbs. capacity and 50,000 capacity for HD
The 99 Series Extra Heavy Duty Caster is designed and built to carry the heaviest loads (50,000 lbs.) while delivering the longest cycle life and flawless performance. The yoke and top plates for this massive swivel section are manufactured by a drop forged process from C-1045 steel.
Optimal for die handling, marine, and automotive applications, the 99 Series also meets the needs for aerospace and aircraft ground support equipment.
The 99 Series Caster is unsurpassed in the marketplace for quality and reliability. The dual raceway load design provides superior carrying capacity and the design assures smooth rotation of this massive caster even when heavily loaded
To discover the best industrial heavy-duty caster for your unique needs, use our Find Your Caster tool.
Click Infographic To Enlarge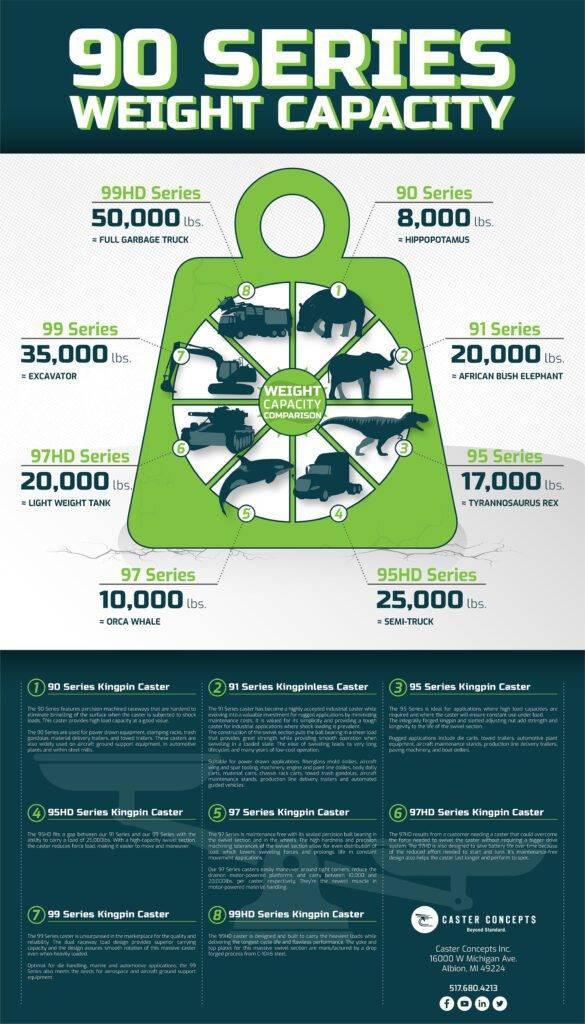 Click Infographic To Enlarge