Safety Solutions Take Center Stage at VPPPA Region V Conference.
Mitigating Noise And Minimizing Operator Injuries Showcased.
Caster Concepts Inc. demonstrated our popular line of ergonomic products like TWERGO® to help reduce the chance of overexertion injuries and enhance health and safety in the workplace. Doug and Tyler of Caster Concepts had some great opportunities to show customers how to improve their material handling operations by reducing the effort to move hand carts — minimizing operator strain and associated injuries.
Reduce Push/Pull Force, Lower Risk Of Injuries
TWERGO® casters are designed to minimize friction and reduce the force required to push or pull materials by up to 50%. This significant reduction in push/pull force lowers the risk of strain injuries, ensuring a safer work environment for your team.
Dampen and Eliminate Excessive Noise And Vibration For OSHA Compliance.
Hearing Loss is the 2nd most common illness suffered in the workplace. With regulations set at 90 decibels dBa for workers exposed for 8 hours, every increase of 5dBa cuts that allowable exposure in half. Our CasterShoX wheel demonstrates the ability to minimize and even eliminate vibration that causes cart noise (reducing shock loads by 80% and noise sources by 15 decibels).  Dampen the noise in your plant while reducing shock load!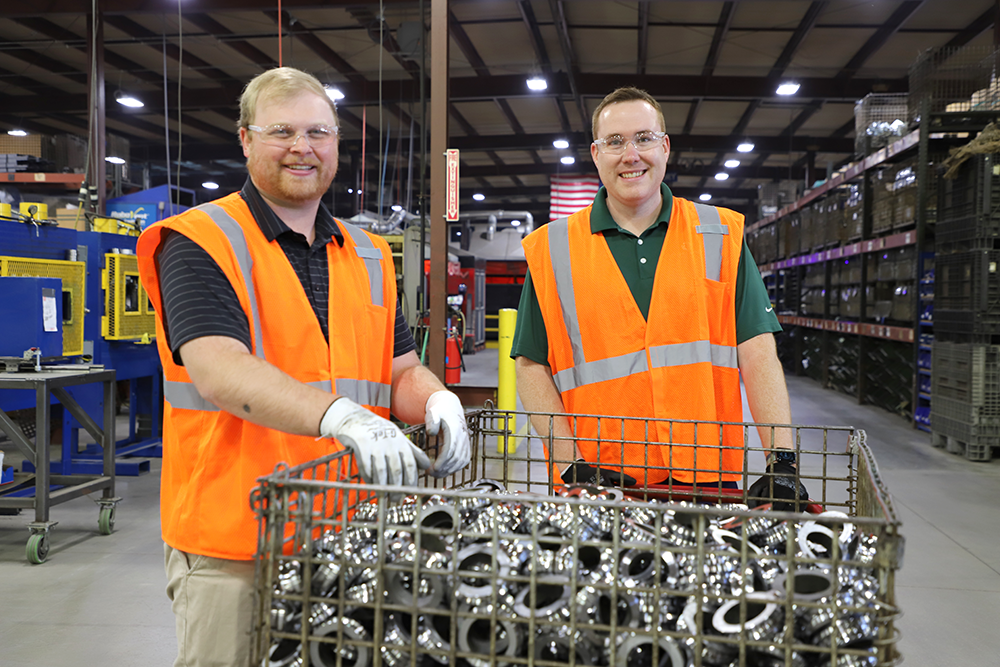 Reducing Recordable Injuries With Safety-Related Accessories.
From caster swivel locks that give operators more flexibility when transporting and maneuvering material handling carts to wheel brakes for increased safety and stopping power, the benefit of caster accessories always becomes a topic of conversation. Another popular option is our toe guards, a simple and very effective option to help protect an operator's foot and prevent serious injuries.
Stay Informed and Get in Touch
Sign up below to receive updates and exclusive offers related to TWERGO® casters. Be the first to know about our latest innovations, industry insights, and upcoming events. Don't miss out on the chance to optimize your material handling operations and improve workplace safety.