Designed to reduce push force and ensure stable operation.
ERGOXCEL™ is our line of cost-effective, maintenance-free casters that help reduce the force needed to move a cart.  Thanks to their ergonomic design, these casters require less initial push force, even when the wheels are not properly aligned. They also require less energy to turn or maneuver thanks to the unique tread that pushes debris out of its path. Less friction means less scrubbing and sliding around corners, and less debris pick means these casters will last longer than other casters.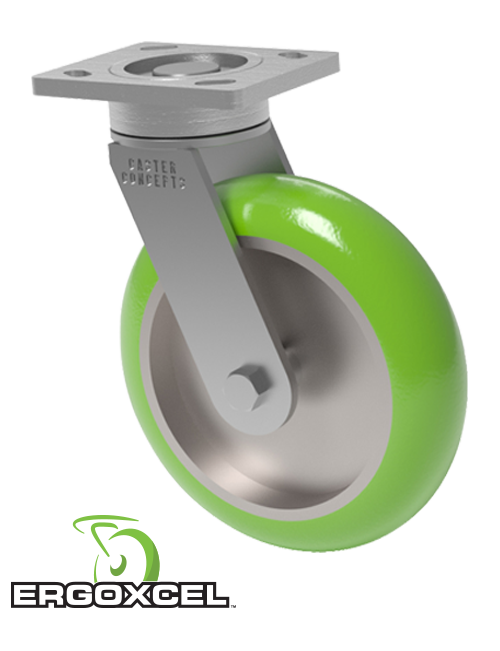 Overview
ERGOXCEL™ casters are designed to reduce the energy exerted and push force necessary to start a cart rolling when the wheels are not all parallel. ERGOXCEL also features a kingpinless design and thick forged steel that can withstand shock loading and side forces.
Another plus is that longevity is never an issue with ERGOXCEL. The mechanically bonded polyurethane offers incredible staying power and resists flat-spotting, and the wheel core itself is made of lightweight and durable aluminum.  In addition, we use only maintenance-free Precision Sealed Ball Bearings, which ensure smooth rotation and consistent performance throughout the life of the rig. All good reasons why our ERGOXCEL™ (balloon tread wheel) is our most cost-effective, medium-capacity ergonomic option.
Application
The ability to move loads safely from one part of a facility to the next is important in many different industries. Though there are numerous ways to get the job done, things like delivery and material handling carts and racks are some common applications for these ergonomic casters.
Options
Caster Concepts has a wide variety of caster options. Many of these not only improve function – but also provide safety and add longevity to the product. When considering safety options, the most common consideration would be caster locks, caster brakes, toe guards, and reinforced legs. Options that extend the life of a caster are primarily options that seal the bearing of the caster to prevent contamination of the precision parts.

Other options include threaded zerks for when an application is difficult and high level of maintenance is required and rack brush wipers that keep debris from stopping movement or damaging a wheel. These options can be added at the time of manufacturing or after the caster is fully assembled.
FAQs