Caster Engineering by Caster Concepts focuses on providing solutions to the most challenging mobility issues in material handling. Our flexible manufacturing and engineering process allows us to accommodate custom designs with high precision easily. Our tools are designed to make caster and caster wheel adjustments quickly and easily. We've worked closely with numerous engineers to develop the exact caster for their company's needs. That experience enables us to offer the following tools and resources specifically for engineers:
CAD Model Tool
Our CAD Model Tool enables customization of one of the thousands of existing models
Download models in one of over 50 formats, ensuring compatibility with your design application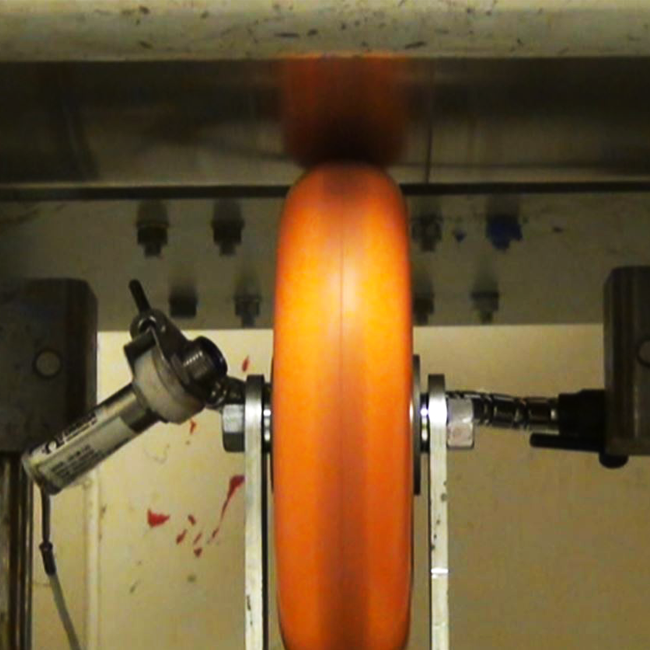 We offer extensive knowledge and experience in resolving common challenges, including:
Extreme Weight (Up to Several Hundred Tons)
Environmental Challenges
Powered Applications
Harsh and Abusive Conditions
ROI Improvements Around Material Handling
Caster and Caster Wheel Dyno Testing
Our fully automated caster testing machines simulate real-world use of their products in a laboratory setting. This includes our computer-controlled Dynamic Wheel Endurance Test Machine (DWETM) that can run unattended on a continuous basis.
The list of features of the DWETM includes:
Automatic changing of testing conditions, load, speed and test duration
Ability to simulate static and dynamic loads up to 10,000 pounds and speeds up to 20 mph
Ability to automatically stop testing sessions when it senses a failure condition
A force load cell to measure load on the test product
A torque and speed sensor that measures the speed of the wheel and the torque being exerted onto the test wheel
An infrared temperature sensor to measure wheel temperature
An accelerometer to measure machine vibration
All DWETM testing data feeds directly into a computer-based controller and can be reviewed and analyzed using custom-designed software.
Portable, Continuous Ergonomic Pull Tester (PCEPT)
Caster Concepts engineers have also developed the Portable Continuous Ergonomic Pull Tester (PCEPT), a tool to acquire and record pull-force data with a high degree of accuracy and repetition. This semi-automated portable testing machine is capable of simultaneously measuring, displaying and recording pull force data and pull speed data.
The PCEPT's computer-based data acquisition system records all incoming data, and the custom-designed software allows the data to be retrieved and analyzed. An open-loop motor controller ensures that run conditions remain constant between different test sessions, resulting in very repeatable and consistent measurements.
Multi-functional Static Condition Caster Test Machine (SCCTM)
The multifunctional Static Condition Caster Test Machine was built to verify and quantify the static characteristics of Caster Concepts current and future product lines. Specifically, the static tester can continuously measure the stiffness profile of spring-loaded and other shock absorption casters along their entire travel length.
It can also be used to determine tread bond strength and quality of elastomer-treaded wheels. Additionally, the static tester can continuously measure the resulting footprint of a wheel with respect to the load applied, thus capturing the change in footprint area as the load applied to the wheel is varied.
Our aim was to create a low-cost multi-functional machine capable of generating useful data for a wide range of products. In order to reduce the cost and maintain flexibility, much of the SCCTM functionality is not automated — the operation and testing time of each specimen is relatively short, so an operator is required to be present at all times. The operator's duties in running the test machine include loading and unloading specimens, initiating the data acquisition software, and controlling the force actuation mechanism.
The SCCTM is capable of generating and measuring 20,000 pounds of force through its hydraulic cylinder and S beam load cell. The cylinder has 10 inches of travel measured through a linear encoder. Its plunging height can be further adjusted to accommodate various caster sizes with the addition of extension rods.
Proven Solutions
From custom drive platforms to driving simulators to a dyno testing station, our engineering expertise spans a variety of applications. Caster Concepts is capable of handling everything from product development, finite element analysis, CAD, and manufacturing documentation.
These abilities allow us to create prototypes, proof of concepts, and large production runs. Our vertically integrated manufacturing process reduces design time and expenses.
Over the past decade, the engineering department at Caster Concepts has developed into one of the most highly sought-after services in the industry. Our expertise using the SolidWorks CAD design platform, Finite Element Analysis (FEA), and design and prototype dynamic testing are unmatched, as well as our in-house production of varying durometers of polyurethane wheels to varying chemical makeup. We also offer laser cutting, CNC forming, and robotic welding, all conforming to ISO-supported manufacturing processes.