Problem:
A large agricultural equipment manufacturer was using inexpensive import casters on their material handling carts. However, the wheels were not rated to handle more capacity as loads increased. Increasingly, maintenance spent more time, money, and effort replacing these casters, which also affected productivity in other areas because of the time focused on this particular caster issue.
Solution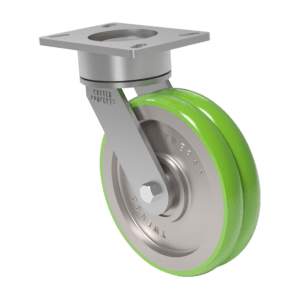 The company replaced import wheels with Twergo caster wheels in various sizes — 6×2, 8×2, and 10 x2. The Twergo wheels made pushing the carts easier, and the casters have lasted 3x longer (and still going) than the previous inexpensive imports. These new ergonomic wheels also significantly cut down on maintenance and replacement hours.
Results
Switching to Twergo wheels created more time for maintenance to work on other areas as they did not have to spend time continually replacing casters. The time and expense saved in labor costs based on union time amounted to $50,000 a year.