Top Plate Casters provide mobility for a wide variety of material handling applications and are the most common type of caster assembly. The caster
mounting plate (top plate) offers more surface area than a stem caster, which means better weight distribution.  It also allows a plate caster to handle heavier weight loads than a stem caster. Our plate casters are available in a wide variety of options and weight capacities.
A top plate has mounting holes that attach the caster to a cart or other equipment with bolts or screws. There are several different mounting plates used for casters, which vary in thickness and configuration. For more information on the specifications of these different plate sizes, read more here.
 Helping you choose the correct top plate size: Measure the bolt hole spacing.
Measure the center of one bolt to the center of another bolt on each side of the caster, length, and width
Also, measure the bolt diameter
Once you have determined this spacing you should see if these dimensions match a standard top plate design
Some of these designs can have slotted holes and others can have the exact spacing needed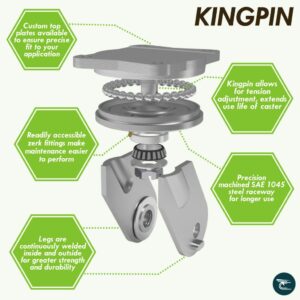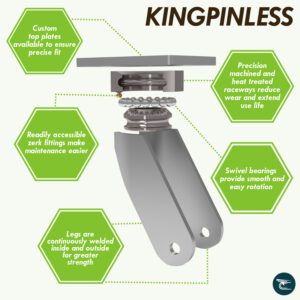 Top plate casters are available in either a Kingpin or Kingpinless design. The kingpin section is one of the oldest methods for creating a caster in a rigid or swivel design.
The kingpin design utilizes a load bearing as well as a thrust bearing to transmit the load across the top plate. A threaded kingpin and a slotted nut design are the most standard configuration in heavy-duty industrial rigid or swivel casters. This setup for top plate mounted casters lets you tighten the kingpin to achieve different levels of swivel resistance.
The kingpinless design caster section has only three components: a top plate with ball race, a yoke base (bottom race) with ball race and ball bearings. This design is similar to what one would find in a ball bearing. This design eliminates the kingpin and utilizes the bearings to spread the load over a larger area. This gives you the advantage to use this type of caster in higher-speed applications.
Caster Concepts carries a full line of plate mount casters in a variety of sizes and configurations. As always, contact us if you don't see what you need or if you would like some guidance in purchasing casters.