We've talked about the effects of salt water, but to dive a little deeper, I am often asked, "What is the best corrosion-resistant caster to use in a salt water application?" Look no further than the Modern Suspension Systems line of Casters.
The proprietary aspect of these casters over other casters from Caster Concepts is the inclusion of many aluminum caster components. Specifically, the yoke, swivel section, and wheel core. Their aluminum makeup gives these components unique properties such as corrosion resistance.
Additional measures to protect against corrosion.
In addition to utilizing an aluminum caster, you can take additional steps to ensure your caster is corrosion resistant. Powder coating your caster is effective, but if the powder coating was to chip at any time, that could cause corrosion in the afflicted area.
Another option is to zinc or nickel plate the caster, as both metals have high levels of corrosion resistance. We also offer zinc plating that's powder coated, which gives the passive corrosion resistance of the metal plating while providing the more direct corrosion resistance of the powder coating.
Other modifications we have done for customers in the past include all stainless-steel hardware, applying a double coat of paint on springs, and sealed bearings, all offering different levels of corrosion resistance.
Modern Suspension Casters Aren't Afraid to get Salty.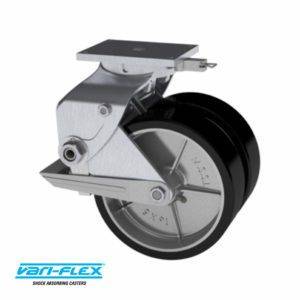 Modern Suspension Casters are perfect for Marine applications. In the past, we have worked with many companies that deal with salt water frequently. We have even helped the US Navy with applications on their ships. When it comes to exposure to salt water or applications on a boat, it is crucial for everyone involved that the caster unit doesn't corrode prematurely.
Aluminum is a low-reacting metal, which gives it a high resistance to acids, water, mineral acids, and powerful oxidizing acids. Its corrosion resistance, chemical and moisture resistance, and its light weight (40% less weight on average than steel) make it a perfect fit for many environments. In addition, it dissipates heat well and is perfect for non-sparking and non-magnetic applications.
Modern Suspension Casters, along with boat and seawater applications, are a perfect fit for other purposes such as:
Aviation Equipment / Ground Support
Aerospace Manufacturing / Aircraft Dollies
Airline Catering / Food Service
Assembly Fixtures / Automotive
Cargo Decks / Pallet Trailers
Defense / Military Equipment
Electronics / Office Equipment
Luggage Racks / Hotel Equipment
Race Car Pit Carts / Tooling Fixtures
Staging / Mobile Movie Set
Aluminum's low density and high strength make it a great choice for a variety of different applications as stated above. For more information on all our casters and applications, visit our Learning Center.
If you enjoyed the blog we invite you to also watch the video on our YouTube Channel.  Don't forget to click on the subscribe button for more content.  Our goal is to create content to help you make the most informed decision when choosing caster and wheels for your application.