I'd like to talk about on-time delivery and why it's important to everyone at our company. We believe this is the most important commitment we can make to our customers, and it is why everyone at Caster Concepts is dedicated to this number one priority.
It takes a team, and each person in the production chain understands their role and consistently fulfills their duties with the goal of delivering on time to our customers. This is possible, in part, because everyone in the organization has a clear sight line to our customers. Thus, clear, concise and personal communication plays a major role. We work daily to make the process the most predictable and reliable in the business.
There are also many manufacturing processes in place that help us accomplish this goal.
For one, our vertically integrated manufacturing processes allow for speed and flexibility.  We laser cut, form, weld, machine, and assemble casters when orders are placed. This helps us provide standard and custom products to customers with no impact to lead time.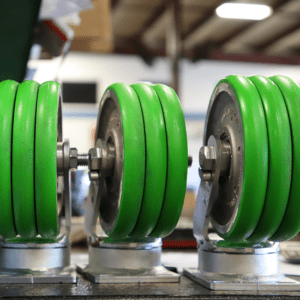 Our in-house polyurethane facility, Reaction Industries, also provides the expertise to ensure we manufacture the highest quality polyurethane for our casters, limiting outsourcing delays for both standard and custom products. In addition, Caster Concepts invests thousands of hours dedicated to quality assurance and production processing performance.
We focus on a quick manufacturing response philosophy to consistently provide 98% plus on-time delivery rates. This metric is used to realize efficiencies that result in reduced lead times.
This also means that areas of inefficiency (reworking due dates, updating forecasts, overtime costs) are reduced or eliminated. Our equipment and processes are operated by our highly skilled staff and we have extensive knowledge of the caster concepts manufacturing process, which ensures even greater efficiencies to the customer.
100% on-time delivery is our goal, and it takes everyone at Caster Concepts to make that happen. We understand your need for on-time delivery, and that's why it's important to us.