Pneumatic Wheels Do Much More Than Shock Absorption
Typically, customers start a conversation with "I need a pneumatic wheel" because they believe it's the best choice for shock absorption. They also choose it because it's rubber, thinking it will be gentler on the surfaces the wheel will be rolling over. These are valid points, but they aren't the only reasons to use a pneumatic wheel.
A pneumatic wheel excels outdoors and in the elements. They are ideal for applications where there is rough or wet terrain. In the elements such as water, mud, gravel, or grass, pneumatics perform better than any other caster wheel material. The ability to withstand a lot of abuse makes pneumatic wheels perfect for aerospace, ground support, marine, and leisure industries.
Other benefits of a pneumatic wheel include providing the greatest possible protection of all the wheel material options. This applies to both the load it is carrying and the surface it is rolling on. They can roll over obstructions with ease while cushioning the load. Casters using pneumatics provide longer wheel life along with less maintenance and high shock absorbency. Another benefit is having a long swivel offset (distance between the center of the wheel axle and the center of the pivot point in the swivel section) on the caster rig. A long swivel offset aids in the ease of movement during the swivel process and tracking in towing applications.
A variety of accessories allow for many configurations.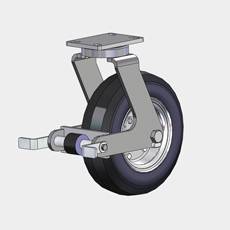 Pneumatic casters also come with many accessory options. Your two brake options are a face contact brake and a pneumatic poly cam brake (single-wheel caster). Swivel locks come in three different styles: a standard factory-installed swivel lock, a foot-actuated swivel lock, or a demountable swivel lock. Adding a toe guard to a pneumatic caster keeps workers safe by ensuring people's toes don't get run over. Sealed swivel sections are also an excellent option to add if these are going to see a lot of the elements because they will keep things such as harmful debris and liquid from getting into the swivel section and causing damage.
Excellent shock-absorbing benefits make uneven floors and indoor and outdoor rough terrain an ideal application for pneumatic wheels. Other areas where pneumatics are suited best would be helicopter dollies, roof maintenance equipment, mobile construction shelters, and other equipment carrying electronics or highly sensitive materials. The sizes and capacity of pneumatic wheels can range anywhere from an 8-inch diameter wheel with a 295-pound capacity up to a 25-inch diameter wheel with a load capacity of 7,260 pounds.