What's better than being able to move a material cart with ease?
The only thing that can top seamless material cart mobility is the ability to move it with by remote control: Think Drive Caster. 

Not familiar with our Drive Caster? Check it out here:
Deciding if drive caster is right for you
Drive Caster helps to eliminate the possibility of injuries when moving heavy carts. One question we often encounter is when it would make sense to use larger heavy duty casters versus transitioning to a Drive Caster. 
Before deciding on a Drive Caster, there are three things to consider:
 1.) How heavy is the load
 2.) Where is it going to be used
 3.) What restrictions will your cart be up against
Although the answer depends exclusively on the individual application at hand, diving into each of these three considerations is a great starting point.
1.) How heavy is the load
The amount of weight you are going to be moving can determine whether larger casters or the addition of a motor is the best option. 
Our Standard Drive Caster is rated for 5,000 lbs., but depending on what you have, we can have these rated up to 100,000 lbs.- there really is no limit!
A lot of times, we get requests on carts that are difficult to move in manual operation. This weight usually falls between 1,500-4,000 lbs. While the short answer is yes, a Drive Caster can move that with no problem, there is a high chance that Caster Concepts has other manual casters that can comply with any industry safety guideline. 
Heavy Duty loads are where Caster Concepts excels: Since the launch of our Twergo line of products, we can now say that we have Ergonomic casters rated to 3,500-4,000 lbs! 
That is some serious weight to be moving around manually, so if you have any questions or concerns, we welcome you to reach out for additional information and data.
2.) Where is it going to be used
If your application is going to be moving in and out of a tight work cell, a Drive Caster may be best suited for the job: Controlling the movement of a cart can be done with ease using the Drive Caster. 
Various controls are available with a Drive Caster and can help you set up the directional ability to best fit your application. The process of precisely moving a cart to interact with another automation for the next step in manufacturing is no problem. 
Larger casters may be the best option if your application is anticipated to be going through a washdown or being in the presence of heat. 
Powder coat casters or food industry casters are other areas where bigger casters should be considered. Having water and chemicals present are not deal breakers for the Drive Caster but definitely add to the complexity of the setup. Additionally, depending on the heat present, the polyurethane wheel needed for traction on a drive wheel may not be possible. 
Typically, you should expect to gain about 15-20% of force reduction simply by moving to a bigger caster (for example, an 8''x2'' caster moving to a 10''x3'' should see a reduction in force).
3.) What restrictions will your cart be up against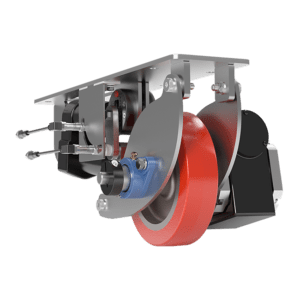 Restrictions, in this case, are related to the height of the cart. A Drive Caster has a fixed height of 10.13'', requiring it to be mounted under an application. 
There are special cases where we can find a solution for circumstances where height is under 10'', which is considered the necessary amount of space needed to realistically work with a Drive Caster.
If you cannot change the overall height (or OAH as you might see in the caster industry), then opting for bigger casters isn't going to be an option either.